>
PRODUCT
>
FOCAL
>
SUBWOOFERS
>
FOCAL E25KX
FOCAL E25KX
Ask question about this product
Price : 32800.- บาท
Product Description
Very high power handling
---
10" SUBWOOFER
The E 25 KX is a very compact 10" (25cm) subwoofer. It offers very high power handling and exceptional reliability. Available in sealed box or bass-reflex type enclosures, this subwoofer has an astonishing SPL of 84.5dB considering its compact design!

It features a yellow Kevlar® cone which is light, rigid and has excellent damping to provide extremely dynamic bass.


The cone is fixed to the frame using a new robust and very reliable rubber suspension, whose exclusive shape has been optimised to provide very high excursion. The aluminum frame has also been redesigned to improve voice coil excursion. All moving parts benefit from this excellent excursion, giving the subwoofer tight, punchy and dynamic bass.


The oversized "Dual Magnet" has been given a new voice coil cooling system to improve cooling and also to improve the subwoofer's performance and power handling.
---
The speaker drivers used for the K2Power have been completely redesigned. Each component is the result of extensive research in acoustics to push back the limits of performance, of power and of precision! The K2Power Kevlar® cone, a product of unique expertise Made In Focal, is to this day second to none. Composed of an ultra-light foam structure sandwiched between a thin layer of Kevlar® aramid fibres, and a layer of glass fibres, the K2Power cone combines three key factors of quality acoustics:
Rigidity

Lightness

Damping, for precise and dynamic sound
| | |
| --- | --- |
| woofer diameter | 10″ |
| voice coil diameter | 2-9/16″ (65mm) |
| voice coil height | 2 3/16″(55mm) |
| motor | Magnet |
| tweeter | Composite K2 Power "W" sandwich cone |
| max power | 1200W |
| nominal power | 600W RMS |
| sensitivity | 84.5dB |
| frequency response | 25Hz-500kHz |
| impedance | dual 2×4 Ω |
ARAMID FIBRES SANDWICH CONE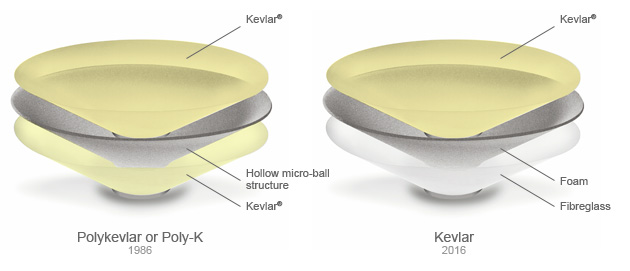 Our Aramid fibres sandwich cone, recognisable by its distinctive yellow colour, is the symbol of K2 Power Car Audio line.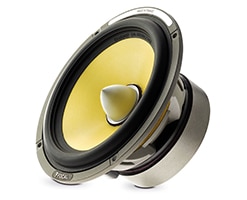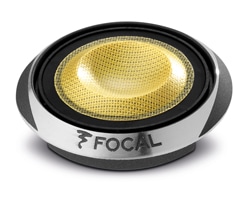 A HERITAGE CONE
Used in JMLab Vega or Antea high-fidelity speakers, the K2 sandwich cone was introduced for the first time in 1986 with the use of Polykevlar. The Poly-K cone is composed of two layers of aramid fibres, applied to either side of a hollow micro-ball structure in order to improve the balance between weight, rigidity and damping.


THE CONE AT THE HEART OF THE PERFORMANCE
In 2016, our Aramid fibres cone has evolved, but preserves its identity and the combination of its three key factors: rigidity, lightness and damping. The goal: guaranteeing high-quality audio reproduction whatever the genre of music you listen to.
It is now composed of a very light foam layer, between a layer of Aramid fibres and a layer of fibreglass, ensuring clear and precise sound void of any colouration.